Paul and Jesus: How the Apostle Transformed Christianity

The Apostle Paul is the single most influential figure in human history, suggests UNC Charlotte Religious Studies Professor James Tabor in his latest book, Paul and Jesus How the Apostle Transformed Christianity. Tabor argues that Paul has done more to shape all we think about almost everything than anyone else. In terms of influence, Paul trumps even the great "founders," whether Jesus, Moses, the Buddha, or Mohammed.
Guests can hear Tabor's fascinating and provocative take on the history of Christianity on Tuesday, Nov. 11, 2014, at UNC Charlotte Center City, 320 E. 9th Street in Charlotte. This is the second event in the Personally Speaking authors' series presented by UNC Charlotte's College of Liberal Arts & Sciences and J. Murrey Atkins Library.
The conversation with Tabor, a former chair of the Department of Religious Studies at UNC Charlotte, will begin at 6:30 p.m. and will be followed by a reception where he will autograph copies of his book. The event is open to the public without charge, but RSVPs are requested via the online registration form or by calling 704-687-1429. Complimentary parking will be provided in the two lots directly across 9th Street and directly across Brevard Street from UNC Charlotte Center City.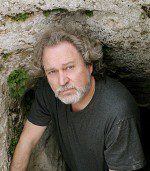 Tabor, who joined UNC Charlotte's faculty in 1989, is the author of seven books and more than 100 scholarly articles. His book The Jesus Dynasty: A New Historical Investigation of Jesus, His Royal Family, and the Birth of Christianity presented the results of his work on the historical Jesus over the course of his career to a general audience. It has been translated into 25 languages and has become an international bestseller.
Over the past two decades Tabor has combined his work on ancient texts with field work in archaeology. He has worked at a number of sites in Israel and Jordan including Qumran, site of the Dead Sea Scrolls; Wadi el-Yabis in Jordan, Masada, and Sepphoris. In 2000 he teamed up with Dr. Shimon Gibson to excavate a newly discovered cave at Suba, west of Jerusalem, that dates back to the Iron Age but was used for ritual rites in the early Roman period. Tabor and Gibson were also the principals involved in the discovery of a 1st century Jewish burial shroud in a looted tomb at Akeldama. Their latest project is an ongoing excavation on Mt. Zion in Jerusalem. His work has been featured in numerous TV documentaries.