2017
Witness in Residence Initiative
Stories of Syrian Refugees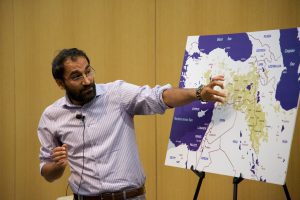 Syrian refugees Zubair Rushk and Amira Elamri shared their stories of life in Syria and a refugee's long road to building a life in the United States during a public conversation on Tuesday, April 18, 2017 at UNC Charlotte Center City as part of the College of Liberal Arts & Sciences' Anabel Aliaga-Buchenau Witness in Residence Initiative.
Even before the current civil war began, Syria was torn apart by regional alliances and differences in culture, history and language. Zubair Rushk defied authorities by opening an illegal school in his home to teach the Kurdish language and history to Kurdish children. After being incarcerated for this offense, he sought asylum in Lebanon in 2005. He was selected in 2010 for the U.S. refugee resettlement program and has since made his home in Cary, NC with his wife.
Amira Elamri, her husband and their two children escaped the Syrian civil war in 2013. After nine moves within Syria and one to Lebanon to escape violence, they arrived in the U.S. with tourist visas. They left behind friends and extended family, many of whom have since been killed by bombings. The couple now have work visas and live in the Boston, MA, area, waiting for their Asylum applications to be approved. Elamri teaches in a Muslim preschool. She joined the conversation via videoconference.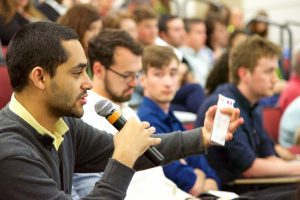 Charles Kurzman, professor of sociology and co-director of the Carolina Center for the Study of Middle East and Muslim Civilizations at UNC Chapel Hill, provided historical context and facilitate discussion. Poet Susan Shaw Sailer, English professor emerita of the English Department at West Virginia University in Morgantown, read a new poem about Syrian refugees.
This conversation is part of the College of Liberal Arts & Sciences' Anabel Aliaga-Buchenau Witness in Residence Initiative. Thanks to generous donors from the community, the initiative provides Study Abroad Scholarships which fund students' study-abroad experiences related to human rights and social justice. It also supports the annual Witness in Residence program at UNC Charlotte, bringing to the campus individuals who have personally witnessed an important world event from within that event. Witnesses present a series of lectures to students, faculty, staff, and the greater Charlotte community.